Hickman's Family Farms Achieves Humane Certification From American Humane
---
Certification in line with national survey results showing Americans' overwhelming support for humanely raised food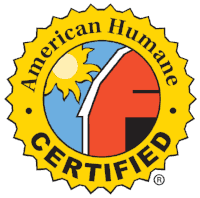 WASHINGTON, D.C., June 19, 2017 –American Humane, the country's first national humane organization and the largest certifier of animal welfare in the world, today announced that Hickman's Family Farms has achieved humane certification for their cage-free eggs through the American Humane Certified™ program. In doing so, Hickman's Family Farms is pursuing a humane path that is in line with national survey results by American Humane showing overwhelming support for humanely raised foods. The survey found that 94.9 percent of Americans said they were very concerned about farm animal welfare and more than three-quarters (75.7%) were willing to pay more for humanely raised eggs, meat and dairy products. American Humane now certifies more than 90 percent of all cage-free eggs in the United States.
In order to qualify as an American Humane Certified producer, Hickman's Family Farms had to meet the program's rigorous standards, which include meeting some 200 science-based standards covering everything from adequate space to proper temperature, air quality and much more. In addition, they voluntarily agreed to undergo rigorous, yearly audits by professional auditors to ensure the standards are being implemented.
"We believe that all animals – those in our homes, those in service to our country, and those on our nation's farms and ranches – deserve humane treatment," said Dr. Robin Ganzert, president and CEO of American Humane. "By becoming an American Humane Certified producer, Hickman's Family Farms helps assure their consumers that the food on their plates was raised humanely and under the science- and evidence-based protections established by American Humane. We applaud them for their extraordinary commitment to good animal welfare."
"Our family is now celebrating our seventy-third year providing fresh eggs to our customers," said Clint Hickman, vice president of Hickman's Family Farms. "Our Grandmother, Nell Hickman started our business with the goal of taking care of her hens as she took care of her family. We are very happy attaining the American Humane Certified certification. We view this certification as another step in verifying to our customers that the care and welfare of our hens is of utmost importance to not only our customers, but also to our family, employees and the communities in which we live."
The American Humane Certified program is the nation's first and largest farm animal welfare certification and audit program, developed by the organization to advance protections for farm animals and ensure they are raised and handled humanely. Independent, third-party audits cover more than 200 species-specific criteria which are rooted in the internationally accepted Five Freedoms of animal welfare. These science-based standards are set and regularly reviewed by an independent Scientific Advisory Committee of the nation's top animal experts, animal behaviorists, veterinarians and animal advocates, including luminaries such as farm animal welfare pioneer Dr. Temple Grandin and Dr. Joy Mench.
For a full list of American Humane Certified producers and more information about the program and other American Humane initiatives, visit www.AmericanHumane.org.
For more information about Hickman's Family Farms, please visit www.hickmanseggs.com.
About American Humane
American Humane is the country's first national humane organization, founded in 1877. For more information, visit www.americanhumane.org.
Back to Top
---
More Articles