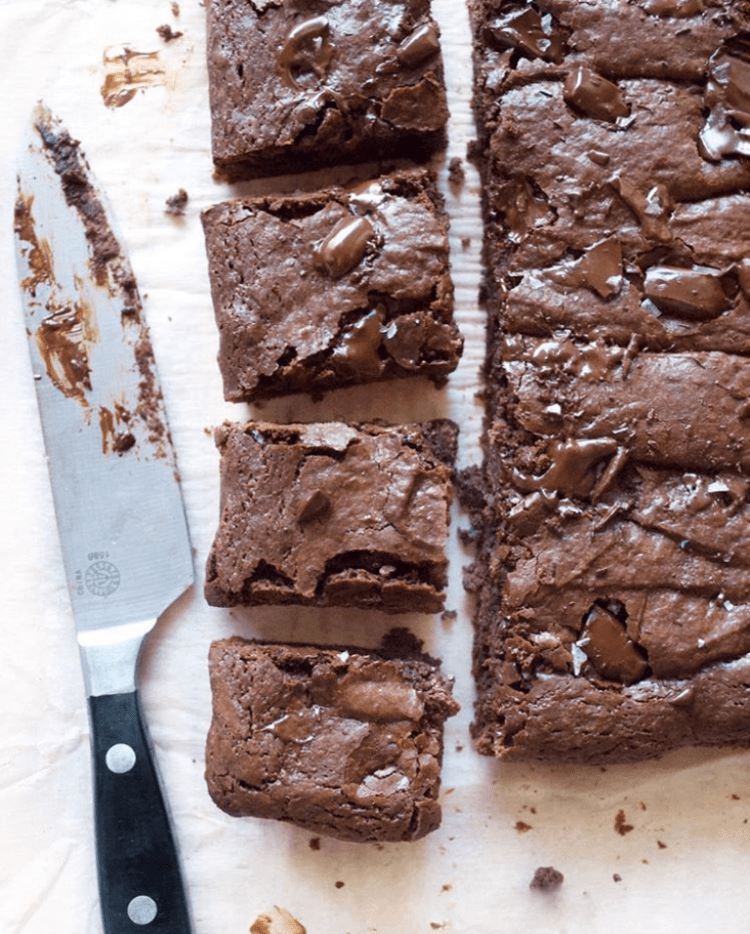 The Best Fudge Brownies

Preheat the oven to 350° F.
Spray an 8" square aluminum pan with nonstick cooking spray.
Place butter and chopped chocolate into a large microwave-safe mixing bowl. Microwave on high in 30-second increments, stirring between each, until the chocolate is fully melted. Allow the mixture to cool for 5 minutes.
Add the granulated sugar, brown sugar, vanilla, and eggs to the chocolate mixture. Whisk vigorously until smooth and combined.
Add the flour, cocoa, baking soda, salt, and espresso powder, if using, to the chocolate mixture. Stir vigorously with a rubber spatula until a thick batter forms and no lumps remain. Fold in the chocolate chips. Sprinkle lightly with flaky sea salt, if desired.
Transfer the batter into the baking pan and smooth the top into an even layer.
Transfer the baking pan to the middle rack of the preheated oven.
Bake the brownies for 28-32 minutes, until puffed at the edges and a toothpick inserted in the center comes out clean.
Remove the baking pan from the oven. Allow the brownies to cool at room temperature for 15 minutes, then transfer the pan to the refrigerator. Refrigerate the brownies for two hours before slicing.
Slice the brownies into squares, and serve.
For more delicious recipes, visit our friend Sara Mellas!
Ingredients
1/3 cup butter
8 oz 60-70% bittersweet chocolate, finely chopped
1 cup granulated sugar
1/4 cup light brown sugar
1 tsp vanilla extract
3 Large Hickman's Eggs
3/4 cup all-purpose flour
1/4 cup cocoa powder
1/4 tsp baking soda
1/4 tsp salt
1/4 tsp espresso powder (optional)
1/2 cup chocolate chips or chunks
Flaky sea salt (optional)