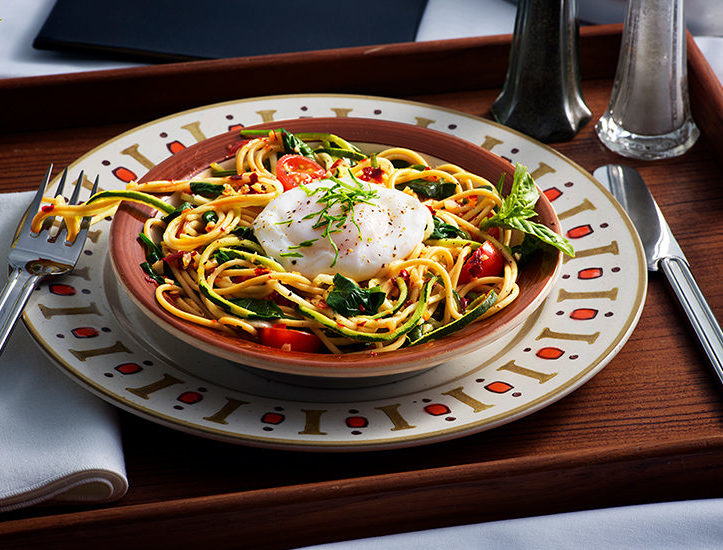 Summer Zoodle Egg Bowl

Bring large pot of water to boil, add spaghetti and cook per package directions.
While pasta is cooking, heat olive oil in a large, deep non-stick skillet on medium-high heat. Add garlic and chili flakes and cook for 1 minute, stirring continually. Add zucchini noodles, salt and pepper and cook, tossing gently, for 1-2 minutes or until zucchini has softened.
Stir tomatoes, spinach, lemon zest, and juice gently into zucchini mixture until well combined. Cook for another 1-2 minutes or until spinach is wilted and tomatoes are warmed through.
When pasta is done, drain and add to skillet mixture. Remove from heat.
Heat 2-3 inches of water in a large saucepan to boiling. Adjust heat to keep liquid simmering gently.
Break eggs, one at a time, into a cup. Holding dish close to surface, slip egg into water.
For more delicious recipes, visit Incredible Egg!
Ingredients
4 Large Hickman's Eggs
1 1/2 cups whole wheat spaghetti
2 tbsp extra virgin olive oil
2 medium garlic cloves, minced
1/2 tsp red chili flakes
4 medium zucchini, spiralized into noodles
1/4 tsp each salt and pepper
2 cups cherry tomatoes, halved
2 cups packed baby spinach
1 tsp lemon zest
1 tbsp lemon juice
1/4 cup thinly sliced basil leaves