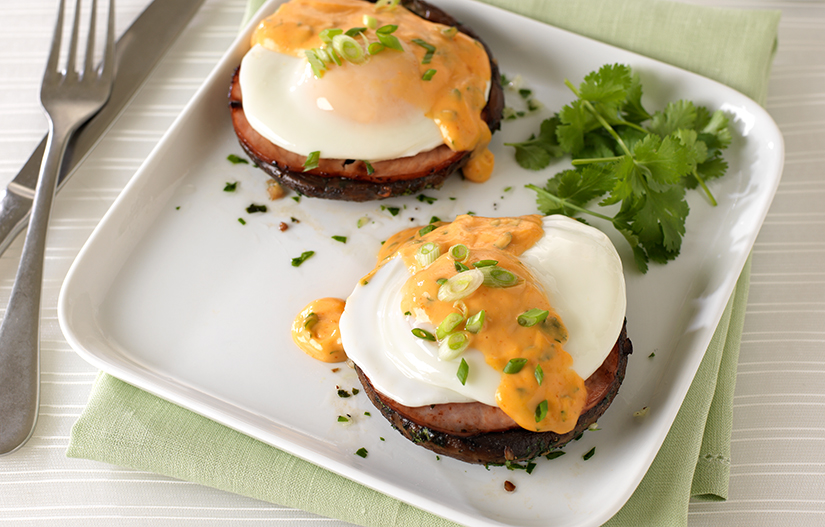 Portobello Benedict

Place mushroom caps in a large bowl. In a separate small bowl, blend oil, parsley, garlic, salt and pepper. Pour oil mixture over mushrooms; toss gently to coat.
Place mushrooms, stem side up, on a spray-coated baking sheet. Bake at 375° F for 40-45 minutes, until mushrooms are softened. Keep warm.
Prepare sauce: Stir together mayonnaise, Sriracha sauce and scallions.
For each serving, fry an egg until white is set (completely coagulated and firm) and yolks begin to thicken (no longer runny, but not hard). Turn egg over, if desired, for additional yolk firmness. Place one slice of Canadian bacon onto stem side of a mushroom, top with the egg, and drizzle on 1 tablespoon spicy mayonnaise. Serve immediately. Garnish with parsley, if desired.
Ingredients
12 portobello mushrooms, stems and gills removed
1 cup corn oil
1/4 cup Italian parsley, finely chopped
2 Tbsp. minced fresh garlic
Salt & pepper to taste
3/4 cup mayonnaise
1 Tbsp Sriracha sauce (or ketchup)
2 Tbsp scallions, finely chopped
12 Large Hickman's Eggs
12 slices Canadian bacon