Modern Crumb's Pumpkin French Toast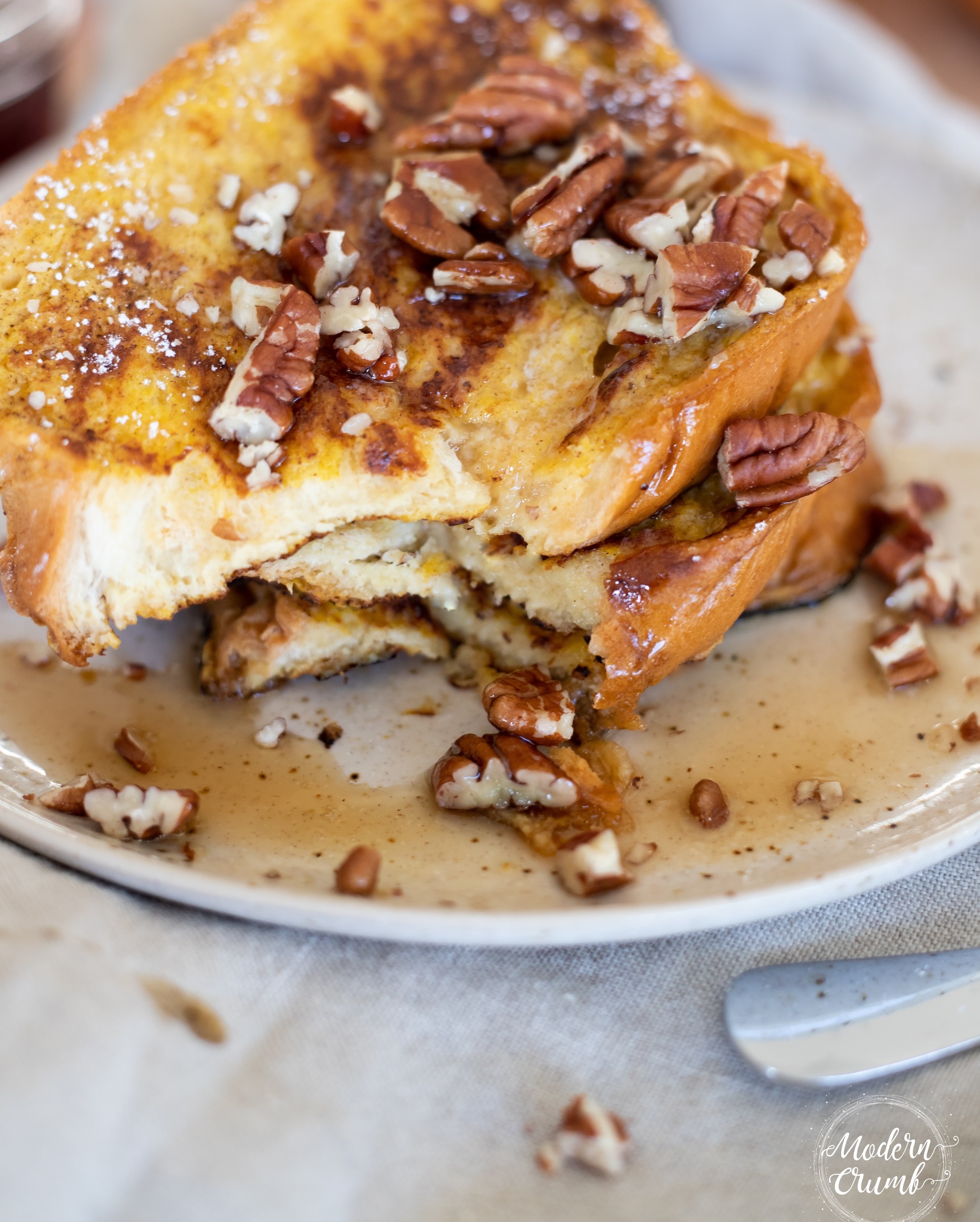 Modern Crumb's Pumpkin French Toast

Add the eggs to a shallow bowl and whisk until mixed.  Add in the half and half, pumpkin puree, sugar, brown sugar, vanilla, salt and cinnamon.  Whisk until combined.
Heat a pan over medium/low heat.
Slice the challah bread in 1/2″ thick pieces, you should get about 12-15 pieces in a loaf, typically, depending on how big the loaf is.
Add a pat of butter to the pan once heated.
Dip a piece of challah bread in the egg mixture, making sure to coat both sides well, hold it above the bowl and let the excess drip off.  Put it on the pan.  Now repeat until you've filled up the pan, make sure not to crowd the pieces.
Watch the French toast, if the first side is getting dark too fast then turn the heat down.  Flip the French toast when the first side is golden.  The French toast is done with its cooked throughout.
Serve with butter, chopped pecan and warm maple syrup!
For more delicious recipes from Modern Crumb, follow her on social media @moderncrumb or visit www.moderncrumb.com!
Ingredients
5 Large Hickman's Eggs
1 cup half & half
5 tbsp pumpkin puree
1 tbsp brown sugar
1 tbsp sugar
1/2 tsp vanilla extract
3/4 tsp ground cinnamon
1/4 tsp salt
1/2 cup chopped pecans
Maple syrup