Modern Crumb's Lemon Dutch Baby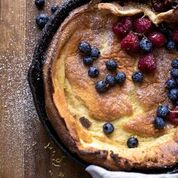 Modern Crumb's Lemon Dutch Baby

Preheat oven to 425.  
Place your skillet in the oven.
In a blender add all ingredients.  Alternatively you can use a bowl and whisk.  Blend until everything is incorporated about 15 seconds.
Carefully remove the skillet with oven mitts once the oven has reached 425.  Put the butter in the pan, swirl it all around until it's melted, golden and bubbly.  Pour all of the batter into the skillet and place it back in the oven.
Cook for 15-20 minutes until the dutch baby edges have raised up!  It may look flat for the first 10 minutes, don't be alarmed it will puff up!
Serve right away with a dusting of powdered sugar and fresh berries.  The dutch baby will heat up the berries and it will be so gooey and delicious!
For more delicious recipes from our friend @ModernCrumb, visit www.moderncrumb.com!
Ingredients
6 Large Hickman's Eggs
2/3 cup milk
2/3 cup flour
1 Tbsp sugar
1/2 tsp salt
1 tsp vanilla extract
1 Tbsp lemon zest
3 Tbsp butter

Toppings

powdered sugar
blueberries
raspberries