Modern Crumb's Cranberry Swirl Cheesecake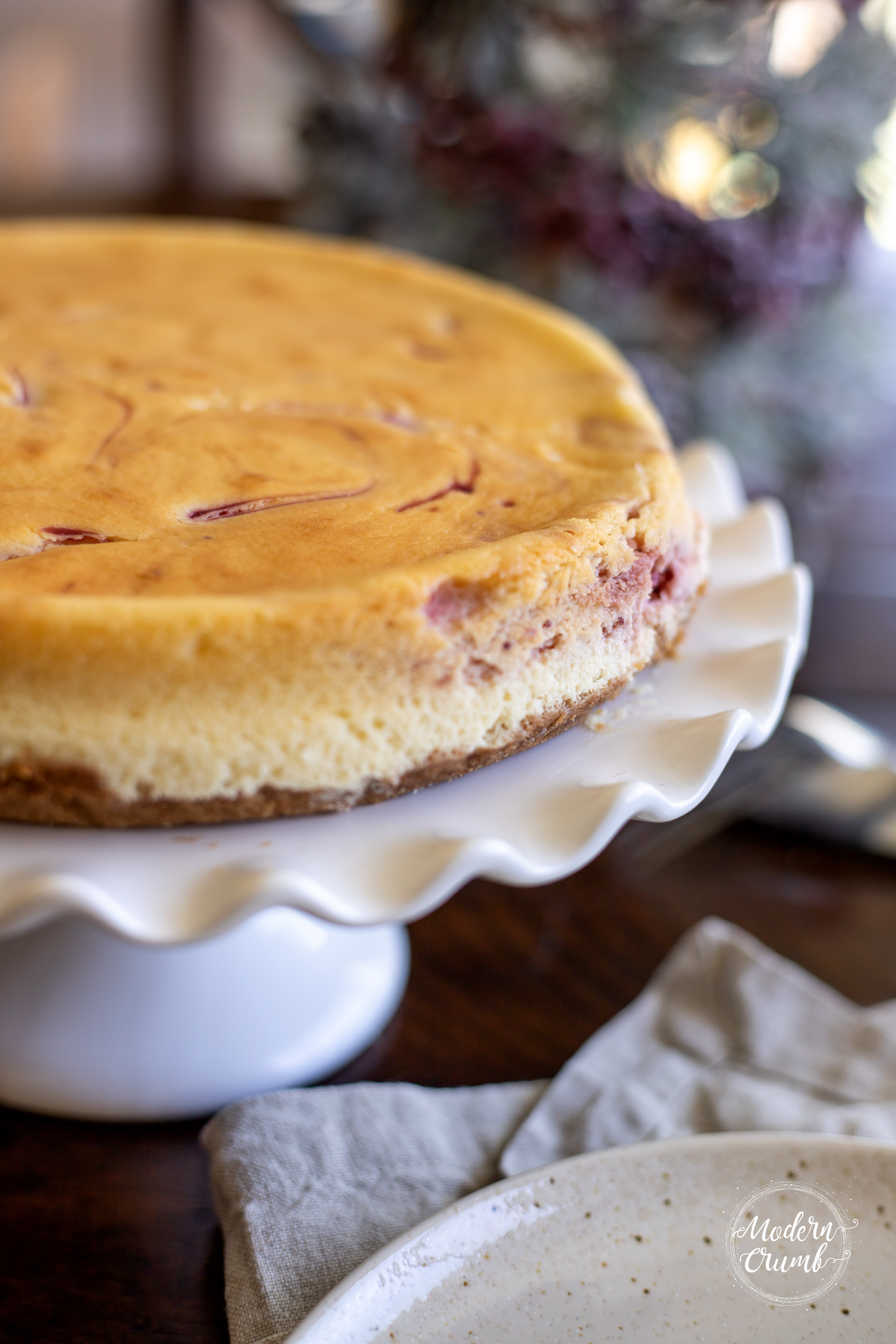 Modern Crumb's Cranberry Swirl Cheesecake

Preheat your oven to 325.

In the bowl of a stand mixer combine cream cheese, vanilla extract, salt, cornstarch, sugar and sour cream, mix until combined.

Add in the eggs, one at a time, and beat at medium/high speed for 3 minutes.  Let it sit.

Use a mini food processor to pulse together the graham crackers, butter, sugar and salt.  Cut a circle out of parchment paper and set it in the bottom of a springform pan.  Press the graham cracker mixture to the bottom of the pan, but not the edges.  Set your pan on a large rimmed baking sheet and bake for 7-10 minutes.  Remove from the oven.

In a small sauce pan combine cranberries, orange juice, water, maple syrup and sugar.  Bring it to a boil and then simmer covered until all the cranberries have burst.  Let this cool slightly and transfer it to a food processor, pulse until the cranberries are nice and smooth.

Fill the springform pan with the cheesecake filling followed by spoonfuls of the cranberry sauce.  Take a spoon and swirl it all around.  Put this in the oven, on the baking sheet.  Fill a cup with water and fill up the baking sheet so it's half way full.

Bake for 55-70 minutes, the middle will jiggle a little but the edges should be totally set.  The top should be a little golden.  If you under bake the cheesecake it won't set up right and be very loose instead of airy and creamy.

Remove from the oven, let the cheesecake sit until it has cooled off, a few hours.  Cover with cling wrap and chill overnight before serving!  It should come easily off the springform pan thanks to the parchment paper.
Visit www.moderncrumb.com or follow @moderncrumb on social for more delicious recipes!
Ingredients
2 blocks cream cheese
3 Large Hickman's eggs
1/2 tsp vanilla
Small pinch of salt
1 tbsp corn starch
3/4 cup sugar
1/4 cup sour cream
2 cup fresh cranberries
1/4 cup orange juice
1/2 cup water
3 tbsp maple syrup
1/4 cup sugar

Crust

1 package graham crackers
3 tbsp butter
1 tbsp sugar
Pinch of salt