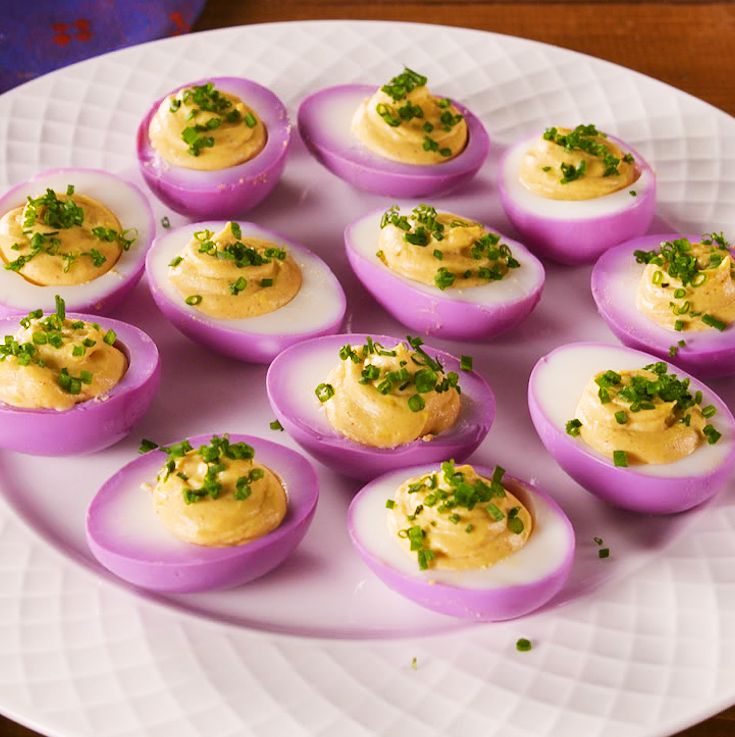 Mardi Gras Deviled Eggs

1. Place eggs in large pot and pour enough water over to cover completely. Bring to a boil, then turn off heat and cover pot. Let sit 11 minutes, then immediately remove eggs and place into a bowl of ice water. Peel eggs when cool enough to handle.
2. In another large pot, bring 3 cups water, cabbage, vinegar, and sugar to a boil. Let cool slightly, then strain out cabbage.
3. Place peeled eggs into a large bowl and pour cabbage liquid over. Refrigerate at least 3 hours and up to overnight.
4. Halve eggs and place yolks in a medium bowl. Add mayonnaise, mustard, and hot sauce to yolks and mash with a fork until smooth. Season with cajun seasoning, salt, and pepper.
5. Pipe yolk mixture back into whites and top with chives to serve.
Mardi Gras Deviled Eggs – Delish.com
Brandon Bales
Ingredients
12 large eggs
1 c. distilled vinegar
1 tbsp. granulated sugar
1/2 c. mayonnaise
1 tbsp. dijon mustard
1 tsp. hot sauce
1 tsp. cajun seasoning
Kosher salt
Freshly ground black pepper
Finely chopped chives, for garnish
Celebrate Mardi Gras with these purple, gold, and green deviled eggs. Hard boiled eggs get pickled with purple cabbage to dye the whites naturally and a little cajun seasoning goes in the yolk mixture to make these deviled eggs New Orleans approved!