Flowering Tortilla Recipe
Ready to make them begg for more? This flowering tortilla recipe is sure to hit the spot and have the entire family flocking to the table.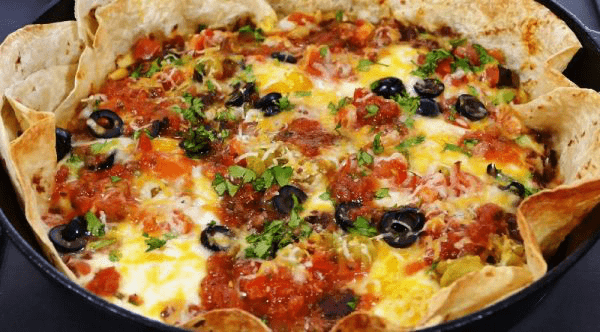 Flowering Tortilla Recipe

Preheat oven to 375º. In a large oven safe (8″ or 10″) cast iron or heavy skillet, place all 6 flour tortillas slightly overlapping each other with about 1 inch of the tortilla above the rim of the skillet. (Tortillas will look like a giant flower.) In a small pot, heat chili to just warm. (That makes it easier to spread.) Pour chili over the tortillas. With a spoon, make an indentation in the chili in 6 places. Very carefully crack 6 eggs and place one in each indentation. Sprinkle cheese over the eggs. Dot with half the container of salsa or pico de gallo. Add green chiles if desired. Sprinkle with olives. Place skillet in oven and cook for about 20 minutes or until eggs are desired doneness. (Do not overcook eggs.) Remove from oven, sprinkle with cilantro and salt and pepper to taste. To serve, spoon out 1-2 eggs per serving onto individual plates and serve with crispy flour tortilla base and remainder of salsa or pico de gallo. Note of Caution! If you are serving the skillet at the table, the handle will be hot for quite some time. Wrap handle in kitchen towel or several paper towels for safety.
Ingredients
6 tortillas (8"- we recommend Food City or La Canasta)
2 cups of your favorite home chili or one can of chili
6 Hickman's Jumbo or Hickman's Cage-Free Eggs
1 1/2 cups shredded cheddar cheese
1 fresh cup of pico de gallo or fresh salsa (found in produce section)
1 small can diced green chile
1 small can black sliced olives
2 tablespoons minced cilantro
Lemon pepper to taste