Customizable Eggs Benedict Bar
Feeling saucy? Gather together and celebrate with a breakfast egg-stravaganza your friends and family will love with an easy, fun and delicious Customizable Eggs Benedict Bar!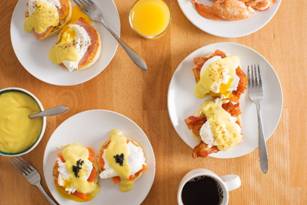 Customizable Eggs Benedict Bar

PREHEAT oven to 350°F. ADD 1 tbsp. water to each cup of 12-cup muffin pan. CRACK egg into each cup. BAKE for 10 to 12 minutes or until egg whites are set but yolks are still runny or until desired doneness. COOL for 1 minute. REMOVE each egg using slotted spoon and place on paper towel­­-lined plate to drain.

Hollandaise:

WHISK egg yolks, water and lemon juice in small saucepan until blended. COOK over very low heat, stirring constantly, until mixture bubbles at the edges. STIR IN butter, 1 piece at a time, until butter is melted and until sauce is thickened. REMOVE from heat immediately. STIR in salt, paprika and pepper.

TOP each English muffin half with Customized Toppings (see Insider Information), oven-poached egg and Hollandaise.

Enjoy!
Customized Toppings:
Protein: Cooked canadian bacon slices, cooked crispy bacon, smoked salmon slices, crab meat, lobster or caviar.
Vegetables: Sautéed spinach, kale or avocado slices.
Herbs and Seasonings: Fresh chives, tarragon or basil, chopped capers, black olives or sun-dried tomatoes. Cajun, Tex-Mex, Italian, harissa, herbes de Provence, curry powder or za'atar spice mix.
Nutrition Information
Per 1/6 of recipe
Calories 590
Fat 45g
Cholesterol 605mg
Sodium 750mg
Carbohydrate 28g
Fiber 2g
Sugars 3g
Protein 19g
Ingredients
12 HICKMAN'S EGGS
6 English muffins, split and toasted
Hollandaise Sauce:
3 EGG YOLKS
1/4 cup water
2 Tbsp. fresh lemon juice
1/2 cup (1 stick) firm cold butter, cut into 8 pieces
1/4 tsp. salt
1/8 tsp. sweet paprika
Dash pepper