Black Bean, Egg & Vegetable Enchiladas Verdes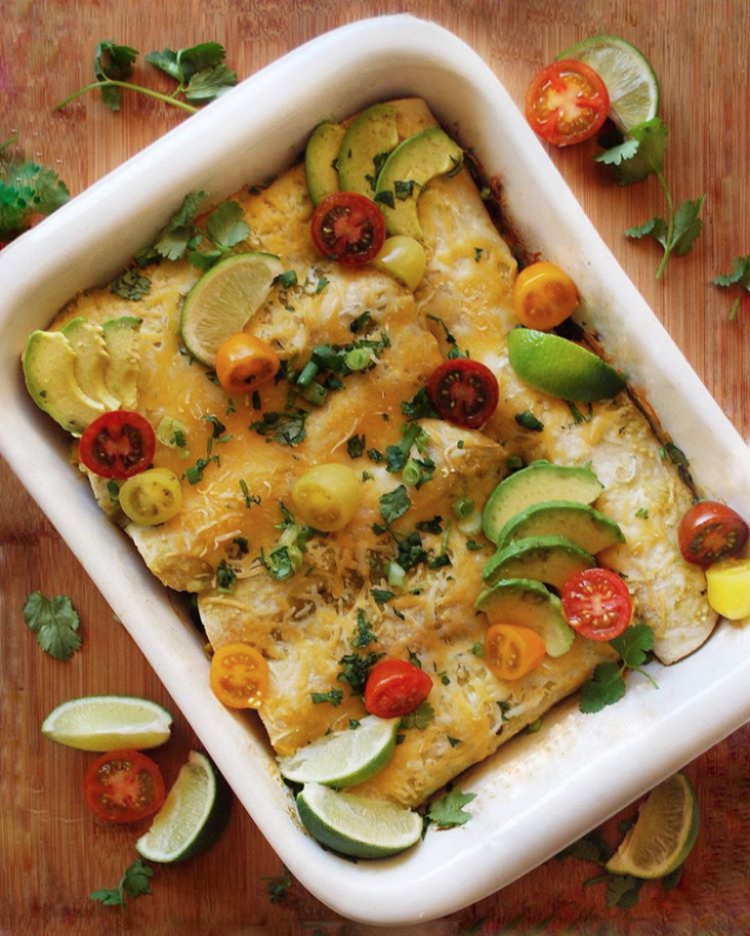 Black Bean, Egg & Vegetable Enchiladas Verdes

Preheat the oven to 350° F.
Spoon about 1/2 cup of salsa verde into the bottom of a 9×13" casserole dish. Set aside.
Finely mince the cilantro and set aside. Finely dice the peppers and onion.
Set a large skillet over medium high heat and pour in 1 Tbs. of olive oil. Once the oil is shimmering, add the peppers and onion. Cook the vegetables for 8-10 minutes, stirring frequently, until the vegetables are softened and slightly browned. Add the black beans, cumin, coriander, and salt and pepper, to taste. Cook, continuing to stir, for 1-2 minutes longer.
Remove the skillet from the heat. Transfer the black bean and vegetable mixture to a large mixing bowl.
Crack the eggs into a separate mixing bowl and beat until smooth.
Return the skillet to the stovetop and reduce the heat to medium-low. Add the remaining olive oil. Once the oil is shimmering, pour the eggs into the skillet. Cook for 2-3 minutes, folding the eggs with a rubber spatula, until they are softly scrambled. Season with about 1/2 teaspoon of salt, and black pepper, to taste.
Transfer the eggs to the bowl with the black bean mixture. Add a 1/2 cup of the shredded cheese and half the minced cilantro. Mix with a rubber spatula to combine.
Place one tortilla on a dinner plate. Spoon about 1/4 cup of the black bean and egg mixture into the center of the tortilla. Using clean hands, tightly roll the enchilada and place seam-side down into the sauced casserole dish. Repeat with the remaining tortillas.
Once all the tortillas are rolled and arranged in the casserole dish, pour the remaining salsa verde evenly over the enchiladas. Sprinkle the remaining cup of shredded cheese over the top.
Transfer the casserole dish to the middle rack of the preheated oven.
Bake the enchiladas for 22-25 minutes, until the edges are bubbling and the cheese is melted and slightly golden brown.
Remove the enchiladas from the oven. Sprinkle with the remaining minced cilantro. Serve with diced avocado, tomatoes, and sour cream, if desired.
For more delicious recipes, check out our friend Sara Mellas!
Ingredients
1 16 oz jar salsa verde
1/4 cup loosely packed cilantro
1/2 red bell pepper
1/2 green or yellow bell pepper
1/2 red onion
1 1/2 Tbsp Olive oil, divided
1/2 tsp cumin
1/2 tsp coriander
1 cup black beans, drained and rinsed
6 Hickman's Large Eggs
Salt & pepper
1 1/2 cups shredded Mexican blend cheese, divided
12 6" corn tortillas