Bacon Loves Eggs Quiche
Celebrate the long-lasting, loving relationship between bacon & eggs with this Bacon Loves Eggs Quiche recipe created especially for you to make at home for your loved ones.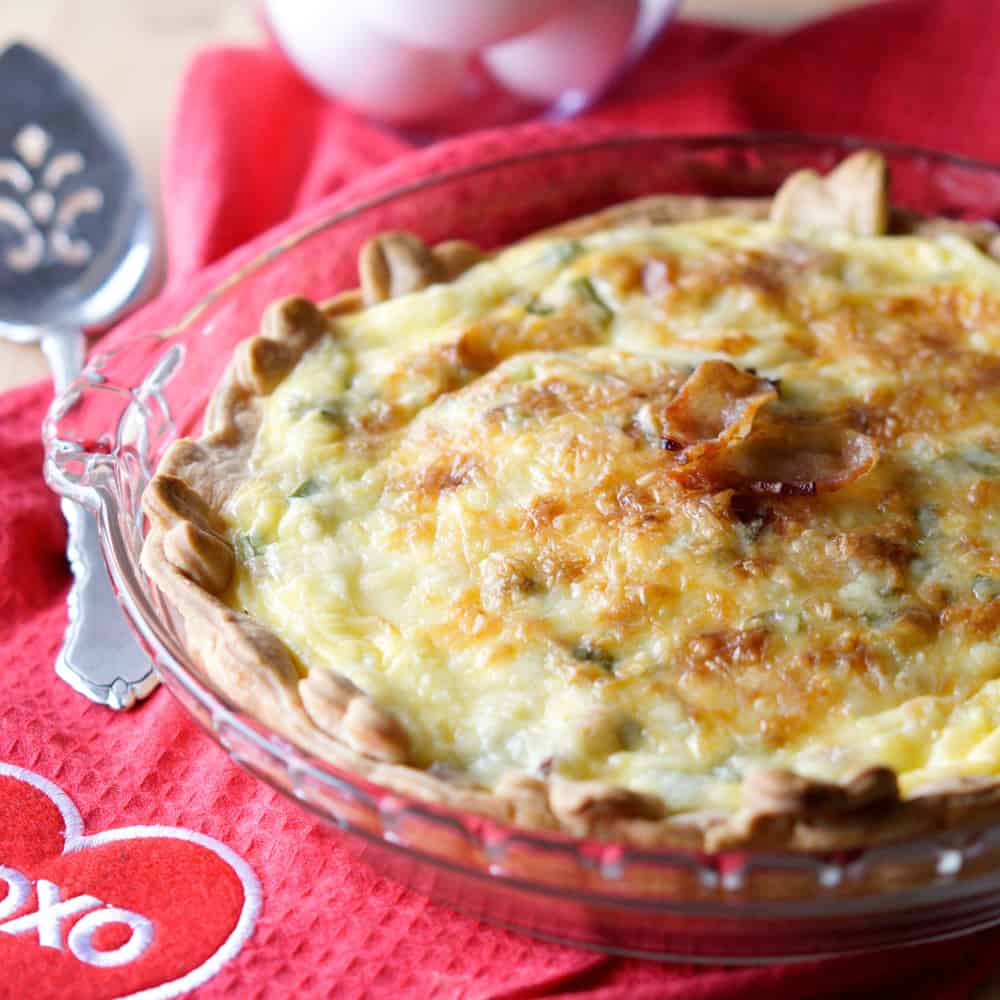 Bacon Loves Eggs Quiche

Place butter, flour and salt into a food processor and pulse until butter is mixed with the flour into a small gravely consistency, then add in water gradually until completely mixed in and dough is soft, not tacky.

Roll dough into a ball and then flatten into a thick disk. Cover in plastic wrap and place in the fridge to chill at least 2 hours up to over night.

After your dough is chilled, preheat the oven to 375ºF.

Roll the dough out onto a floured surface into a large round sheet, large enough to cover your 9'' pie plate past the rim.

Place the rolled dough over the pie plate, pressing it down into the plate and rolling over the edges, trimming the dough just past the edge of the plate.

*optional – roll out excess dough into a small sheet and use a cookie cutter to create decorative shapes to place around the edge of your pie, affixing with a dab of egg wash.

Pierce the dough with fork tines all over.

Place a round piece of parchment paper into the pie dough and fill with pie weights or beans so as to prevent the crust from puffing up.

Place the pie crust into the oven at 375ºF for 15 minutes, remove the beans and parchment and continue to bake for another 10 minutes.

Remove the crust from the oven.

Next, combine five eggs with the half and half, whisking so as to break up the eggs and add a little air into the custard.

Next, layer half of your shredded cheese into the bottom of the pie crust, followed by the bacon, the scallions and then the remaining cheese.

Then pour the custard over top of the fillings.

Place the quiche into the oven at 350ºF and bake for 20 minutes, then rotate and bake an additional 20 minutes. Use a pie crust guard for the last 20 minutes to avoid over browning of the crust edges.

Serve warm or chilled.
Ingredients
Pie Crust:

6 Tbs butter cold, cut into cubes
3/4 cup flour
3/4 tsp salt
1/4 cup water

Filling:

1/2 lb bacon, chopped and fried
6 ounces shredded mild white cheddar
2 scallions
1-1/2 cups half & half
5 Hickman's Eggs